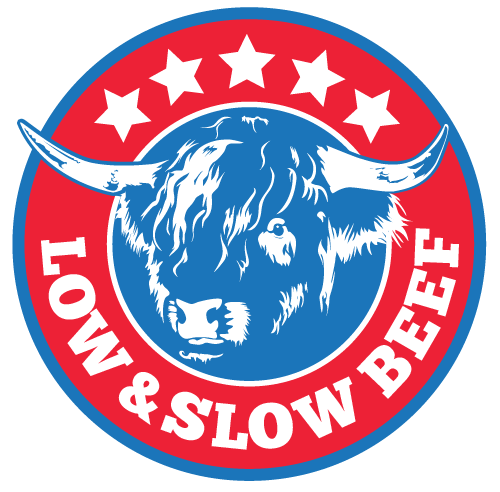 Low and Slow Beef – Grass Fed 
& Grass Finished
 What cattle eat throughout their life determines the quality and nutrition levels of the beef. Most beef labeled as natural or grass fed is often finished on grain, corn, wheat, and oat hay, and finished in feed lots. Low and Slow Beef has better standards.

We raise 100%

grass fed

, 100%

grass finished

beef.
Antibiotic-free, Hormone-free, Humanely Raised, Free Range, Dry-Aged to ensure tenderness and flavor, AND Heart Healthy. We strive to raise the healthiest, most nutritious food available for customers that are concerned about the food they eat and how it is raised.

Grass Fed & Finished is one of the Healthiest Foods on the Menu. When you add up the score between grass-fed and grain-fed beef, grass-fed beef wins hands down. Less overall fat, more protein, fewer calories, more omega-3 fatty acids, a healthier ratio of omega-6 to omega-3 fatty acids, more CLA, more vitamin E, and more beta-carotene.
All of our meat is USDA inspected and processed.
McCary Meats in Basin City, WA and Artisan Butchered at 4 Frendz Meat Market in Clarkston, WA. Both are USDA inspected and certified. 
Our beef cuts include:
Steaks
*Tenderloins *New York's (Because USDA guidelines are different they do not allow T-bone's in cows over the age of 30 months. This is due to what they call "hard bone." Even though the Scottish Highland breed doesn't ever get "hard bone" they have to cut/treat all breeds the same per USDA guidelines) *Top sirloins *Flank Steak *Rib Eye 
Roasts
*Chuck roast *Shoulder roast
Other "cuts"
*Short Ribs *Ground Beef (1 pound packages) *Soup bones *Stew meat (upon request)